Nurse practitioners (NPs) are a valuable part of any clinical team but can especially shine in their roll with House Calls. They are qualified to diagnose and treat complex health conditions through graduate and/or doctorate level degrees and hours of family medicine and clinical training.
House Calls nurse practitioners care for our patients wherever they call home, allowing patients to remain comfortably and safely at home.
Kayla Bachand is one of the NPs on the House Calls team, and she shares more about her passions and experiences below.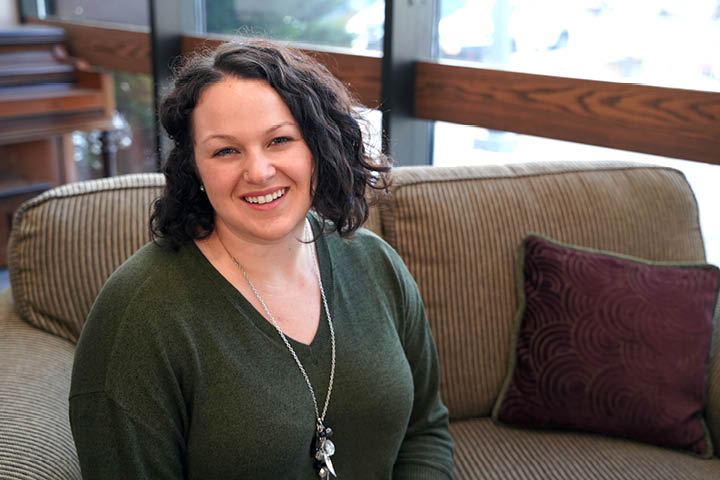 Describe your background.
I grew up near Alexandria, Minn., on a farm. I have two bachelor's degrees: a Bachelor of Arts in Psychology with a minor in Liberal Arts and Human Services from the University of Minnesota and a Bachelor of Science in Nursing from the University of North Dakota in Grand Forks. My first nursing job was in a hospital setting in Fargo working on a step-down cardiac ICU where I worked for two years. I moved to being a nurse in the Day Unit working with surgical patients where I was for three years when I started my masters degree as a NP at UND. My first NP job was at a clinic in primary care/integrative medicine where I worked for almost three years. I've also taken additional courses in functional medicine through the School of Applied Functional Medicine that I plan to continue in the future. I love to learn, which is what I enjoy about the medical field; we're always learning and educating!
What brought you to House Calls? What do you find unique about it?
I enjoy providing primary care for patients but didn't like how time limited I was at other larger companies. At House Calls, I love that I'm able to spend more time with the patients and get to see them in their homes. It also allows me to meet their beloved family members and pets. It helps me develop a stronger relationship and understanding of the patient and their unique environment.
Describe the role of a nurse practitioner in primary care.
A NP is the highest degree of nursing and is either a graduate or doctoral-level degree. NPs can prescribe medications and supplies, assess, treat, refer, perform procedures and do much more. We are equipped to be primary care providers for all individuals and work together with others to provide the best holistic care.
How do you see yourself being able to make a difference for House Calls patients?
I really enjoy primary care because it allows me to collaborate with others and take care of the whole individual and their spiritual, emotional, mental and physical needs. I get to walk side by side with the person in their health journey and form a lasting relationship. I also really enjoy being able to problem solve with patients and come up with solutions that work for them and their unique needs.
What are the benefits of you coming into a home?
There are so many! Patients are typically more comfortable in their own homes and are willing to discuss sensitive or difficult topics. It allows the provider to assess what resources the patient may or may not have access to along with any potential hazards in their home. My favorite part is getting to know the patient's family, friends and pets.
Why would someone switch from their primary doctor, whom they may have been seeing for a long time, to House Calls?
House Calls is perfect for patients who have limited mobility or health conditions that makes traveling difficult because the provider comes to wherever the patient resides. We bring the supplies, check vitals and complete the appointment all inside their home.
How can this program help caregivers?
Caregivers do not need to stress about how they are going to transport the patient to the clinic and worry about taking time off to accommodate that. Caregivers will have direct access to the provider in the patients' homes. I recommend caregivers create a list of their questions and bring them to the appointment.
What kind of services does House Calls provide?
We come to your house and complete visits that would normally take place in the clinic setting. These may include, but are not limited to physicals, acute visits, pre-ops, chronic disease management, follow-ups, medication management and simple procedures. Our team consists of NPs, licensed practical nurses, a scheduler and a lab tech.
What does a typical visit look like?
Each visit is very different depending on the patient and the reason for the visit. We make sure your medications are up to date and place refills, if needed. Then, we assess your health by asking a series of questions that are geared toward the reason for the visit. We will complete the physical exam, which might look different depending on the type of visit. A treatment plan is created that may include medication changes, lab, imaging, continue monitoring or placing a referral. After this is all discussed, a timeline for a follow-up appointment is set.
Share a little about your family.
I'm married to my husband, Ryan, and we have a Vizsla dog named Zoey. I grew up on a farm outside of Alexandria, Minn., where my parents still raise beef cattle and have a lot of cats. Growing up, I helped with the farm chores and in the crop and hay fields. I have a younger sister, who is also a nurse, she and her family live near the family farm.
What brings you joy?
I love spending time with family, especially my nieces and nephews. There is nothing better than being called "Auntie Kayla." I also love animals and really enjoy going to the zoo. I like spending time in the country and near the lakes, which I find relaxing. I also like to travel; I love planning trips!
If you or your loved one lives with a chronic illness, House Calls may be able to help. House Calls brings primary care to your front door for individuals who have difficulty leaving their homes for routine medical appointments. Contact us today to learn more.