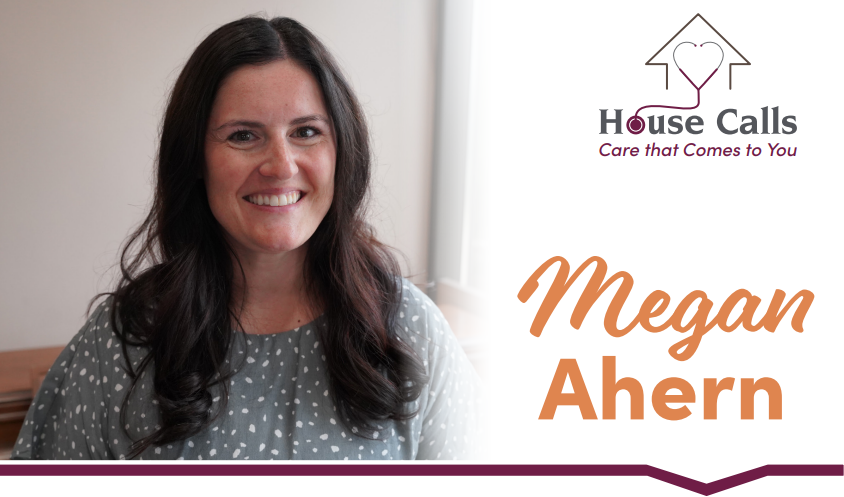 Nurse practitioners (NPs) are a valuable part of any clinical team but can especially shine in their role with House Calls.
They are qualified to diagnose and treat complex health conditions through graduate and/or doctorate level degrees and hours of family medicine and clinical training.
House Calls nurse practitioners care for our patients wherever they call home, allowing patients to remain comfortably and safely at home.
Megan Ahern is one of the NPs on the House Calls team. Read as she shares more about her passions and experiences.
Describe your Background.
I grew up in a small town in North Dakota and am the oldest in my family. My interest in healthcare started with my first experience as a certified nursing assistant (C.N.A.) at the local nursing home and later the Anne Carlsen Center in Jamestown. In my time at Anne Carlsen Center, I loved that I was able to see new aspects of healthcare in this environment and all the community services that they offered. I went on to earn my nursing degree and worked in the hospital where I gained all sorts of experience, especially with post-surgical patients. As a nurse working alongside other healthcare professionals, I was inspired by the nurse practitioners serving patients as I witnessed the difference they made and really set patients up for success as they were leaving the hospital. All these experiences come together for me as a nurse practitioner with House Calls as I focus on helping people stay in their homes by bringing healthcare to them and connecting them to community services they may benefit from.
What drew you to House Calls?
I was drawn to House Calls because I was really looking for a role in primary care. I love health promotion and helping patients figure out what makes them feel healthy. In my role as a nurse practitioner, I get to help my patients feel good by helping with symptom management. It's important for me to help my patients control their symptoms so they can still do the activities that make them feel good and happy even if they have an illness. I find a lot of joy being able to help with this.
Describe your role at House Calls.
In my role as a nurse practitioner with House Calls, I am serving my patients as their primary care provider. So just like your primary care doctor, anything you would talk with them about, or that they would help you take care of, I am able to do. The difference is that I come to you, so you don't have to leave your home if that is difficult for you to do.
How does House Calls work with a patient's specialty doctor?
We communicate with our patient's specialty doctors and would continue with the recommendations that they have. They would receive your House Calls health record, so they know what's going on with your other health conditions.
What is it like visiting patient's in their home?
Whether home is a residential home, independent living community, or assisted living community, joining a patient in their home makes such a difference. We travel to a variety of different places to make our House Calls visits. From the Fargo-Moorhead metro to rural areas, we travel to the patient. I like to remind patients of this as we are all over the region, so call if you need my help.
How does House Calls interact with a patient's caregiver?
A patient's caregiver can always call House Calls with any questions or concerns that they have. We can answer questions over the phone or can always schedule a visit sooner than usual to come visit in person. The caregiver is the eyes and ears for the patients, so it's important for me to create a relationship with them. House Calls realizes that transportation to medical appointments can be a large burden on a caregiver so that's why it's great that we can come to your home.
What is important when finding a primary care provider?
It's important to find a provider who is going to listen well, be honest and take complaints seriously. Find someone who is good at explaining things in a way that is easy to understand and someone who is easily available to help when issues arise.
What does a typical House Calls visit look like?
When I arrive in a patient's home, I will introduce myself and have any family or friends present at the house introduce themselves as well. This is important so I understand their relationship and connection with the patient. I then will figure out if my patient wants people around during the visit or if we should go to a private room. Even though I am in a patient's home, it is still a similar set up to being in a clinic. I'll take a patient's vitals, ask lots of questions and do a physical exam. I will then talk to the patient about a plan and address any concerns they may have.
How often do you see a patient?
At a minimum, we typically try to see a patient every three months. If there is anything going on or if we are making changes, we will follow up sooner. If a patient calls before their scheduled visit, the House Calls team can go out and visit sooner.
Do you have any advice for staying well, avoiding the flu?
Wash your hands, cover your nose and stay home when you're sick. My advice is that if you aren't sick, don't be afraid to be around your family members. Especially during the holidays, being around family, can really help brighten your mood.
How do you work with the rest of the House Calls team?
I am in constant communication with the rest of the House Calls team through phone calls, text messages, etc. Even if I don't physically see the rest of the team, we always stay in constant communication throughout the day.
Is there any contrast between going to an assisted living facility versus going to a patient's home?
The main difference between going to an assisted living facility, versus a patient's home is that at an assisted living facility, the nurses there can give updates on a patient. We work closely with the staff at the assisted living facility, and stay in close contact with them. They are a valued member of the team. Even if we are not meeting with a patient, we are in the facilities quite often and can communicate with the nurses there to see if there are any concerns or things that we should look out for during our scheduled visit. This is helpful because they can help fill in some of the blanks that a patient may not remember. However, just like at a patient's house, we will come right up to your room and visit at the table there.
In the time that you've been doing this, has there been one scenario or experience that stands out to you as being very impactful?
The most common thing that I encounter are people who really struggle to get out of the house. This can be for a variety of reasons such as anxiety or they could get short of breath quickly because of their physical state. What ever their physical limitation is or what ever causes them stress. I can come to their home and help alleviate that stressful situation.
What do you do for fun?
I am a mom, so I play with cars on the floor and watch a lot of Disney movies. In the summer, I like to sit on my patio and drink coffee. I also enjoy a lake day in the sun. In the winter, I love to have a movie day.
About House Calls
Serious illness, aging or side effects of treatment can make getting to scheduled medical appointments a challenge. House Calls brings quality medical care directly to you in the comfort of your home. Imagine not having to worry about transportation or how you will get in and out of the clinic for routine check-ups and exams. Relax, and let our medical team come to you.
For more information about House Calls, call (701) 356-1560 or (800) 929-8991, or visit CareThatComesToYou.org.